Robert A. Opoku, Ph.D.
DEPT. OF MANAGEMENT & MARKETING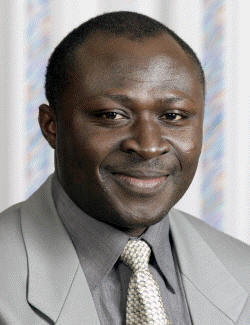 Personal Information
As a young academic and researcher interested in online branding, I consider my 'footprint' on the web as a social/public responsibility and a branding tool that, as in the rest of my life, requires some disclosure about who I am, what I do and my background.
Please note that this homepage is a way of revealing myself but not to distance myself from direct or physical interaction with you. In this regard, feel free to contact me in the real world too.

WHO IS ROBERT?
Anyway, you can know more about my research, teaching, academic interests, background and experiences as you navigate through the various links provided. That notwithstanding, here is a brief summary about me:
Robert is currently an Assistant Professor of Marketing at the Department of Management and Marketing, College of Industrial Management (AACSB Accredited), King Fahd University of Petroleum & Minerals, Dhahran, Saudi Arabia. Previously, he has taught full-time in Ghanaian universities and has been invited to deliver presentations in universities in the UK, Sweden, France, and South Africa. His primary research interests span across brands and their management; interface of technology and marketing; young adults' product usage and purchase behavior; and SMEs and e-commerce adoption in developing countries. Before embarking on postgraduate education, he has gained considerable industrial experience, having worked for companies in Ghana. As a Certified e-Commerce Consultant™ (CEC) and full member (MCIM) of Chartered Institute of Marketing, UK, he consults in private and official capacities to a limited number of clients in the areas of Internet Marketing, e-Commerce, Strategic Marketing, Market Research, and e-business adoption and deployment. Robert's current publications have appeared in peer-reviewed international journals such as Tourism Management, Journal of General Management, Journal of Brand Management, Qualitative Market Research, Habitat International, Journal of African Business, Journal of Internet Commerce, Journal of Marketing for Higher Education, Journal of Financial Services Marketing and Enterprise Information Systems amongst others. Further, he has presented papers at a number of both renowned international academic and practitioner conferences. As an associate editor of Emerald's African Journal of Economic and Management Studies, he also serves on editorial and review boards of other scholarly research journals in e-Commerce, Marketing and Information Management. Robert is the recipient of the Distinguished University Award for Excellence in Teaching for 2011/2012 Academic Year at his college. He has also been chosen as 2012 Outstanding Reviewer at the Emerald Literati Network. He earned his doctoral, master of philosophy and master of science in business administration degrees with specialization in e-Commerce from Lulea University of Technology, Sweden. Earlier, he was concurrently awarded a bachelor's degree in Commerce (Hons) and Diploma in Education from University of Cape Coast, Ghana. Robert's real world expertise coupled with his wealth of teaching experience enables him to share unique perspectives with students and further enrich their academic lives. Nonetheless, he welcomes the opportunity to learn more each time in an ever-changing marketing landscape.
I hope you would enjoy surfing through this homepage. However, if you have any comments please send them to opoku@kfupm.edu.sa


Copy of Robert's CV
<![if !vml]>

<![endif]>