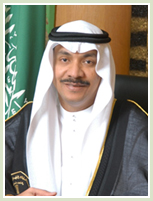 Dr. Sami Abdulrahman Khaiyat is a full-time Assistant Professor in the Architectural Engineering Department at KFUPM. Before KFUPM he received his Ph.D. from Texas A&M University, College Station, Texas in 1994.
1997 Appointed as Assistant Dean for Student Affairs
2000 Appointed as Dean of Student Affairs
2007 Appointed as Supervisor for Technical Affairs
2009 Appointed as Acting Supervisor for Financial & Administrative Affairs
plus his current appointment.
2010 Appointed as General Supervisor, Services with the following departments
reporting to him:
g Projects
g Maintenance
g Housing & Office Services
g Administrative Affairs
g Financial Affairs
g Materials
g Safety & Security
g Printing Press
g Medical Center
g Food Services
g Community Center
Office Location: Building 21, Room No. 704.
E-mail: gs@kfupm.edu.sa
Phone No: 860-2300, Fax No: 860-2323
KFUPM P.O.Box 5010, Dhahran 31261, Saudi Arabia.