Biography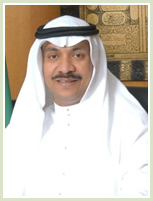 Dr.Sami Abdulrahman Khaiyat
General Supervisor, Services
Dr. Khaiyat is a full-time Assistant Professor in the Architectural Engineering Department at King Fahad University of Petroleum and Minerals. He received his B.S. in architectural engineering with honors from KFUPM in 1985. He also received an M.S. degree in architecture with honors from California Polytechnic State University, San Luis Obispo, California in 1988. In 1994 he received his Ph.D. in architecture from Texas A&M University, College Station, Texas.
Dr. Khaiyat used to be the dean of Student Affairs until his term expired on July 2007. He is now the General Supervisor, Services.
More on Dr. Khaiyat's publications, affiliations, specialty area, and courses taught.