Dr. Azhar Kazmi
MANAGEMENT & MARKETING
MY BOOK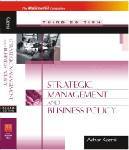 STRATEGIC MANAGEMENT AND BUSINESS POLICY
3RD. EDITION
PUBLISHER: TATA McGRAW-HILL, NEW DELHI
YEAR: 2008
The third edition of this popular text in strategic management in India has the latest and current discussion in the discipline of strategic management, in a lucid and reader friendly manner. This is a thoroughly revised and updated edition with thirty eight new case studies.
SALIENT FEATURES
Ø Latest framework of strategic management including strategy formulation, implementation, evaluation and control
Ø Special emphasis on internationalization and digitalization in the context of strategic management
Ø Latest topics such as resource-based view, dynamic capabilities, business modeling, VRIO framework, balanced scorecard and so on ….
Ø A large collection of new examples and illustrations of Indian companies and organizations
With many features, this edition continues the tradition of being a text ideal for self-study and comprehensively meets the requirements of graduate and post-graduate students of management and allied disciplines. Middle-level managers, trainers, and consultants would also find this book quite useful.
My publisher's website: http://www.tatamcgrawhill.com/title/result.jsp
My book website: www.mhhe.com/kazmi3e
My book on e-bay: http://cgi.ebay.in/Business-Policy-&-Strategic-Management---AZHAR-KAZMI_W0QQitemZ220146796229QQcmdZViewItem
My book on Google (Second edition): http://books.google.com/books?hl=en&lr=&id=7bbTVYIXstMC&oi=fnd&pg=PR7&dq=%22Azhar+Kazmi%22+google&ots=JqfnqSPRJr&sig=w4V6IL1VZaskmdweLJRd0aaymB0