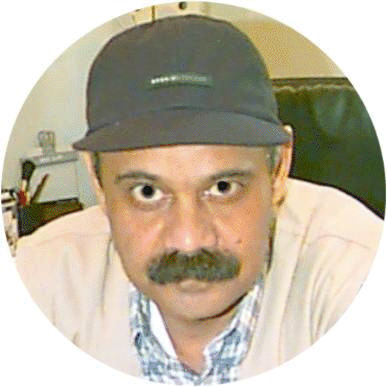 DR. A. ABOKHODAIR
IN BRIEF
I am an associate professor of geophysics at the Department of Earth Sciences, King Fahd University of Petroleum. I received my BS degree in 1968 in Mathematics, Physics and Geology, my MS in 1972 in Applied Geophysics, and my PhD in 1978 in Environmental and Applied Geophysics from the University of California at Santa Cruze, California; USA.
I chaired the ES department between 1989–1992, have been a board member of Dhahran Geological Society (1989-1992) and Vice Chairman of the Saudi Society of Earth Sciences (1998-2002). I have also served on several national and University committees such as The Research Reviewers Panel of KACST, Saudi Scientific Team on Oman Ophiolites, Saudi Red Sea Commission, Nation Committee on the Translation of Science, University Graduate Council, College of Science Administrative Council and the Computer Utilization Committee.
I have consulted in the areas of groundwater and environmental geophysics for several government and private organizations including Ministry of Municipalities and Rural Affairs (OMRA), Dammam and Arriyadh Municipalities, Dar Al Riyadh, and Water and Sewage Authority, Al-Madinah Al-Munawarah.
Since joining the Earth Sciences department in 1979, I have been involved in teaching of geophysics courses at both the undergraduate and graduate levels which included Exploration Methods, Geophysical Techniques, Computer Methods in Geophysics, and Geophysical Data Inversion, Modeling, and Analysis. I have also supervised MS theses in geology, geophysics and mineral exploration.
My research activities span several areas of applied geophysics, including mineral exploration, natural resources development and management, environmental geophysics, environmental magnetism, and geophysical data modeling and interpretation. I have participated in, and supervised some funded research projects and studies in the above areas from within the ES Department or in association with the RI. My most recent completed project is establishment of the Environmental Magnetism Laboratory at the Earth Science Department.
My current professional interests are in the areas of applications of geophysical technologies to environmental problems, including remediation and corrective action, domestic and industrial waste disposal and management, environmental planning. I also have a keen interest in Geophysical Inverse Theory and its applications to modeling of geophysical systems.
I am an active member of the American Geophysical Union (AGU) and The Society of Exploration Geophysicists (SEG).
If you are really interested, you may download my full CV here.