Welcome to My Website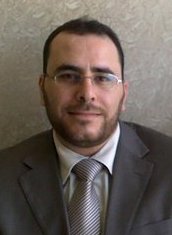 I am currently an Associate Professor at the Electrical Engineering Department in King Fahd University of Petroleum & Minerals (KFUPM), Saudi Arabia. I am also the Director of Sponsored Research Office at the Office of Vice-Rector for Research in KFUPM. I was born in Hebron, Palestine. I achieved the B.Sc. degree in Electrical Engineering from Palestine Polytechnic University (PPU) in Palestine (2004). I got my master degree in Communications and Electronics Engineering from Jordan University of Science and Technology (JUST) in Jordan (2007). I achieved the Ph.D. degree in Communications Engineering from KFUPM in 2013. My research interests fall in the general area of wireless communication systems, relay networks, cognitive radio networks, free space optical and visible light networks, interference, reconfigurable intelligent surfaces, modeling and analysis of wireless systems.
I was awarded an Appreciation Letter for Excellence in Teaching from the Electrical Engineering Department in KFUPM in May 2013. Also, I won the Best Poster Award in Saudi Technical Exchange Meeting (STEM) Symposium which was held in KFUPM in Dec. 2012. Recently, I have been awarded an Appreciation Letter from IEEE as an Exemplary Reviewer for IEEE Wireless Communications Letters in 2014. Also, I have received the KFUPM Best Research Project Award as a Co-Investigator among the projects in 2013/2014 and 2014/2015. I have published more than 80 papers in reputable journals and conference proceedings, in addition to 7 issued patents.
My Research Interests
Free space optical communications, visible light communications, relay networks, relaying schemes, antenna and multiuser diversity, interference, cognitive radio networks, and reconfigurable intellignet surfaces.
My Professional Membership
> IEEE, Senior Member.
> Jordanian Engineers Association.
> Palestinian Commun. & Informatics
Society, Founding Member.
My Contact Information
Email: salhab@kfupm.edu.sa

Phone:

+966-13-8607668
Fax:

+966-13-8603292
Off. Location:

Bldg. 15, Room 6036
Address: P.O. Box 859, KFUPM, Dhahran
31261, Saudi Arabia
Number of visitors to this website since 2015 is:
This website was last updated in Oct. 2020 Copyright © 2015

Go To Top