!BODY background ="http://www.ccse.kfupm.edu.sa/images/backgrounds/glosbgr.gif" link=#ffffff vlink=#ffffff ><!BODY background ="http://www.ccse.kfupm.edu.sa/images/backgrounds/glosbgr.gif" >

<! BODY BGCOLOR=#816e6d TEXT=#6f6fff ><!BODY BGCOLOR=#856d6d TEXT=#ffffff ><!BODY BGCOLOR=#9f7faf TEXT=#ffffff ><!BODY BGCOLOR=#70077c TEXT=#ffffff >

Computer Engineering Department

Robotics Laboratory

Professor Mayez Al-Mouhamed

Research Theme

A Dexterous Robotic Surgery Tool for MIS Procedures

Motivation
A high-dexterity miniature robotic structures
Application to a variety of applications including Minimally Invasive Surgery (MIS) like throat with specific shape, length, and complexity:

Thin structure for insertion as endoscopes with multiple long tools through a narrow laryngoscope like suturing vocal fold tissue, or
A low diameter surgery tool to be inserted in the patient body (of the chest and abdomen) through a pivoting point.

Minimal kinematic constraints to ease the passage through fixed entry ports
Dexterous tools with ease of manipulation to permit common surgical subtasks.
Easily scalable to small sizes, simple to manufacture, and can be used with multiple detachable surgical tools.
Approach
A light, miniature, back-drivable, transmission mechanism for robotic surgery
A master-slave arrangement, each is 3-dof, revolute, with a pivoting point.
A functional and ergonomic interface of master arm to surgeon hand and fingers
A tight mechanical interfacing between master and slave arms
Bilateral structure and back-drivable with reflected force (haptic) feedback
Allow remote operation of 2-3 tools with high tip dexterity to enable suturing and soft-tissue manipulation by the surgeon
New wire-poley attachment to eliminates slippage, one steel transmission rope per dof, and pre-tensioning independently for each loop
Effective mechanisms, transparency, compactness, and low cost.
Phase 1: Snake-Like Multi-Layered Mechanism
o Snake-like distal dexterity mater-slave unit based on Samaan's design (2004)
o Multi-backbone snakelike mechanism
o A snake-like multi-layered mechanism using a flexible backbone
o Actuation redundancy resolution to allow further downsize scalability while reducing the risk of buckling of the primary backbone
o Extended to a symmetric Master-Slave mechanism
o Absence of standard miniature joints
o Reduced complexity and manufacturing costs
<![if !vml]>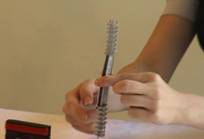 <![endif]>
<![if !vml]>

<![endif]><![if !vml]>

<![endif]><![if !vml]>

<![endif]><![if !vml]>

<![endif]>
<![if !vml]>

<![endif]><![if !vml]>

<![endif]><![if !vml]>

<![endif]><![if !vml]>

<![endif]><![if !vml]>

<![endif]>
Phase 2: A distal Snake-like Master-Slave System (10 mm D)
o A snake-like (Simaan et al., 2004) multi-layered mechanism using a flexible backbone
o Extended to a symmetric Master-Slave mechanism
o Uses four 0.6 mm Steel flexible ropes connecting the layers of master and slave mechanisms
o 25 cm distance from master to slave mechanism
o Inexpensive due to absence of joints
o Reduce the manufacturing costs
o Reduced size due to the small number of moving parts
<![if !vml]>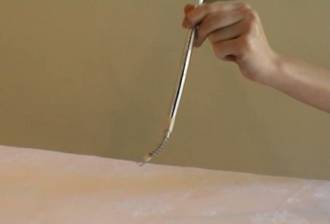 <![endif]>
<![if !vml]>
<![endif]><![if !vml]>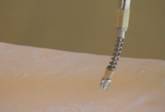 <![endif]><![if !vml]>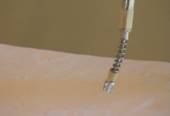 <![endif]>
<![if !vml]>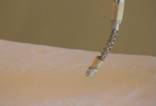 <![endif]><![if !vml]>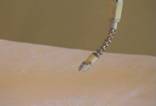 <![endif]><![if !vml]>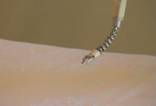 <![endif]>
Phase 3: A 14 MM 3-DOF Master-Slave Surgery Tool (see video clip of robotic surgery tool)
o Articulated, revolute, 3 dof, wire-based miniature manipulator arm (14mm D)
o Extended to a symmetric master-slave mechanism
o Interface to surgeon hand and fingers (Pending Patent)
o Three 0.6 mm steel ropes for one-to-one connection of the 3 dof of master and slave arms
o Master and slave can be extended to arbitrary distance using small motors and servos
o Offers a total of 6 dof to its terminal using body position (3 dof) rotation (1 dof)
<![if !vml]>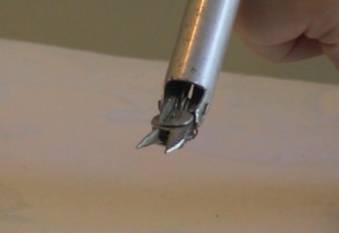 <![endif]>
<![if !vml]>

<![endif]><![if !vml]>
<![endif]><![if !vml]>

<![endif]>
<![if !vml]>

<![endif]><![if !vml]>

<![endif]><![if !vml]>

<![endif]>
<![if !vml]>

<![endif]><![if !vml]>

<![endif]>