Bambang A.B. Sarif
COMPUTER ENGINEERING
Welcome to Bambang Sarif Homepage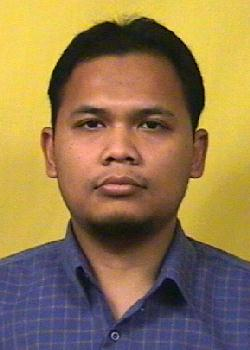 Hi, my name is Bambang Ali Basyah Sarif. I am Network Coordinator in College of Computer Sciences and Engineering, King Fahd University of Petroleum and Minerals (KFUPM). Please fill free to browse my site.
Contact Information:
Computer Engineering Department
King Fahd University of Petroleum & Minerals
Office : Building 22 room 336-2 (Unix System Administration)
Mail : PO BOX 868
Dhahran-31261, KSA
Phone: (off) +966-3-8604920
Email: bambang@kfupm.edu.sa
Quick Description
I am Network Coordinator in CCSE
I am in KFUPM since January 2001
I am an indonesian
I love UNIX and open source applications
I do like teaching and doing research
Curriculum Vitae
I obtained my BSc degree from Electrical Engineering Department, Bandung Institute of Technology, Indonesia in 2000. I finished my MSc degree from Computer Engineering Department in 2003. Since May 2004, I have been working as Unix System Administration (and later Network Coordinator) in College of Computer Sciences and Engineering.
My research interest evolve during the course of my study and employment in CCSE. I used to work on reconfigurable architecture (FPGA), hardware description language and image processing during my BSc degree. In my master course, I am more interested in VLSI synthesis, multi-objective optimization, evolutionary computation and ant colony optimization. Now, I am developing interest in wireless sensor networks. I would love to investigate the use of swarm intelligence to solve optimization problem in sensor networks.
You can find my full resume here.