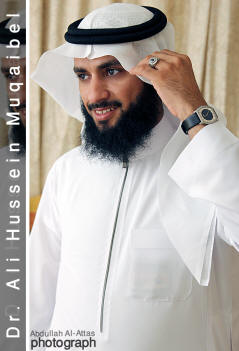 Additional Links:
Additional office meeting may be possible with e-mail pre-arrangement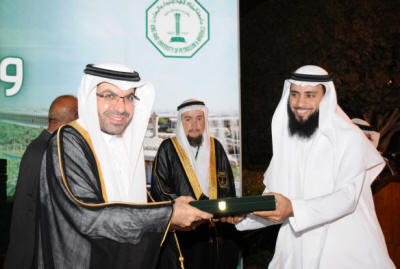 Current Research Topics:
Wireless Propagation, Ultra Wideband (UWB) Communications, Direction of Arrival Estimation, Compressive Sensing for Through-wall Imaging, Channel characterization.
Wants to know more about Satellite Communications EE418, visit the following link
Current Research & Graduate Students
Saleh AlAwsh (right):
Compressive Sensing Application with Interference Cancellation

Tamim Al-Khudary

Ali Albeladi
Dr. Muqaibel is also interested in Application of Signal Processing techniques to UWB communications.
In another practical dimension, Dr. Muqaibel is interested in implementation of Bluetooth based positioning systems. He advised three different senior projects related to the concept. Helping pilgrims in Hajj is a main motive to this research.
---
#

Award

Notes

14

10 Years Serivce Recognition

13

Awarded Excellence in Advising (KFUPM) 2012/2013

Certificeate
Letter

12

IEEE Senior Member

11

Awarded Excellence in Teaching (KFUPM, CES) 2011/2012

10

Bronze Medal Award for research Project funded by KACST

9

Instructional Technology Award (KFUPM) 2008/2009

8

Awarded Excellence in Teaching (KFUPM, CES) 2007/2008

7

Nominated for the University (KFUPM) short course award 2007/2008

6

Nominated for the University (KFUPM) short course award 2006/2007

5

Awarded College of Engineering Short course award (End of year party 2005)

4

Selected for Marquis Who's Who 2007-2008 Collection

3

Selected for Who's Who in America, 2008

2

Completed the Junior Faculty Development Program on March 20, 2007 at 10:00 a.m. in building # 20/103 honored by the university rector

1

Best Presenter Award (The Internet & Communications Engineering Technical Exchange Meeting, e-CETEM 2003) Sept. 27th-Oct.1st, Dammam Saudi Arabia
News!
Follow me on Facebook for updated news
http://www.facebook.com/muqaibel
Dr. Muqaibel is now a IEEE Senior Member
Mr. Syed Faraz Ahmed has just devended his MS Thesis. Dr. Muqaibel is his co-advisor.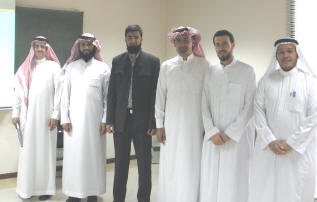 4SSC 4th Student Conference
EE207 Signals and Systems
EE570 Stochastic Processes
Contact Information
Phone (Off) : +966-3-860-1595
Fax : +966-3-860-3535
E-mail : muqaibel@kfupm.edu.sa
Address : P.O. Box 1734, KFUPM, Dhahran-31261, Saudi Arabia.
Office Loc. : Building 59, Room 1088
Research Area
<![if !supportLists]>∑ <![endif]>Ultra wideband/Impulse radio communications,
<![if !supportLists]>∑ <![endif]>Channel Characterization,
<![if !supportLists]>∑ <![endif]>Radiolocation
<![if !supportLists]>∑ <![endif]>Time Domain and RF/Microwave Measurements,
<![if !supportLists]>∑ <![endif]>Channel Coding: Turbo Coding