السلام عليكم و رحمة الله و بركاته،،
موعد تسليم هذا الواجب (الحل النهائي موجود) هو مساء يوم الثلاثاء القريب.
و السلام عليكم و رحمة الله و بركاته،،
Q7.
A block attached to a spring undergoes a simple harmonic motion on a horizontal frictionless surface. Its mechanical energy is 40 J. When the displacement is half the amplitude, the kinetic energy is:
Q7: 30 J
Q17.
A simple pendulum consists of a 2.0 kg mass attached to a 1.0 m long string. It is released from rest at an angle of 30º (point A) as shown in Fig 3. Its speed (v) at the lowest point P is:
Q17: 1.6 m/s
<![if !vml]>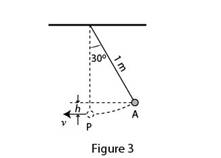 <![endif]>
Q19.
Two springs of spring constants k1 = 40 N/m and k2 = 160 N/m are fixed opposite to each other on a frictionless floor as shown in Fig.  4. A 0.50 kg block, not attached to any of the springs, oscillates between the two springs. If the block compresses the first spring by a maximum distance of 10 cm then it will compress the second spring by a maximum distance of:
Q19: 5.0 cm
<![if !vml]>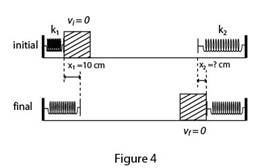 <![endif]>