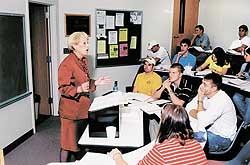 Jane P. Helm, vice chancellor at Appalachian State: "If I could save a housekeeper's job, I would do it." (Photograph by Frederica Georgia)



GET IN THERE AND TEACH
Budget cuts have prompted Appalachian State University to send administrators to the classroom -- some for the first time.

THE NEXT BIG THING?
Some college officials see personal digital assistants as must-have tools; others find the hand-held computers a drain on resources.

TIME FOR REFORM
A report by the Association of American Colleges and Universities says undergraduate education needs reorganization, with tougher standards.

NO MORE 'DOSSIERS'
A Web site run by the Middle East Forum did away with a section monitoring the work of professors deemed anti-Israel.

OPINION
ALL DUE RESPECT
It's not just OK, but crucial, for professors to make clear to their students who has the knowledge, and who needs it, writes Miriam Kalman Harris, an associate professor of English at Tarrant County College, in Fort Worth.

NEXT SESSION, MAYBE
A senator says Congress will not ease financial-aid restrictions this year on colleges that enroll more than half of their students through distance education.




FORGIVEN: At some colleges, clemency policies discount old failures when calculating students' grade-point averages.

OPINION
APPLYING HERSELF: In writing a research proposal for a faculty job, Rachel Brem, a visiting faculty member in the scientific-inquiry planning unit at Evergreen State College, rediscovers her inner scientist.

'REPORT CARD': A research center on higher education compares the states on measures including college affordability and student participation.

UNIVERSITY OF THE ARCTIC: Colleges in 16 countries have joined in a network to serve the educational and research needs of the circumpolar region.

CASE CLOSED: A mathematics professor, fired because of his classroom performance, settled his lawsuit against Temple University.








E-mail Updates
















Sign up for a special weekly e-mail message on teaching-related news. (Password required.)