Prof. Harry A. Mavromatis
PhD in Theoretical Nuclear Physics, Princeton University, USA, 1966.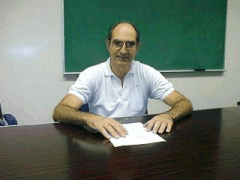 Prof. Mavromatis has been Professor of Physics at King Fahd University of Petroleum and Minerals (KFUPM) since 1987, and the Managing Editor of the Arabian Journal of Sciences and Engineering (AJSE) since 1992.
Prior to this he has worked at :
Michigan State University,
Oak Ridge National Laboratory, USA.
The University of Sussex, Oxford, UK.
Harwell National Laboratory, UK.
University of Tuebingen, Germany.
The Julich Kernforschungsanlage, Germany.
NASA, as a Summer Fellow in 1983 and 1984.
The American University of Beirut (as a Chairman of the Physics Department, between 1977-1980.)
He is the author and co-author of more that 100 research articles in refereed journals, and four books, including Exercises in Quantum Mechanics (Kluwer, 1992).
Prof. Mavromatis has received the Distinguished Researcher Award from KFUPM in 1992 and 1997.
He is also:
a member of the American Association for the Advancement of Science (AAAS),
a member of New York Academy of Sciences.