L'astronomie dans la région de Genève :
---
Programmes complémentaires :
Related Software :
Ces programmes s'interfacent avec "Cartes du Ciel" :
Software that interface with "Cartes du Ciel" :
---

Autres programmes :
More Software :

En complément du programme "Cartes du Ciel", je vous recommande les programmes suivants qui sont également disponibles gratuitement et qui permettent de préparer les observations des planètes.

Essayez aussi ces deux superbes logiciels gratuits qui permettent une approche différente des cartes du ciel.
Also try the following superb free software that give a different approach of sky charting.
---
Produits commerciaux:
Commercials products:
Si vous cherchez un logiciel commercial je vous conseil d'aller voir ceux-ci. Chaque logiciel à ses propres caractéristiques et le meilleur pour les uns ne le sera pas pour d'autres, cela depand ce que l'on veut en faire. Heureusement il y a le choix !
If you search for a commercial software I recommend to you the following one. Each software as is own characteristics and the best depend of what you want to do. Fortunately you have the choice !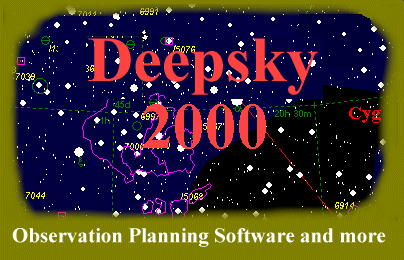 Astronomy Programs and Telescope Control

---
Catalogues astronomiques :
Astronomical Catalogs :


Very fine description notes for the Southern observers. Mirror page
---
Comètes et astéroides :
Comets and Asteroids :
Planets :
---
QuickCam :
---
Encore des liens :
More links :