Spring 2004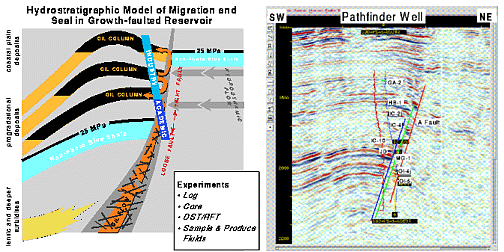 Lecture and Lab Schedule:
Lecture - Monday, Wednesday and Friday 9:05-9:55am in 371 Willard
Lab1 - Wednesday 3:35-5:30pm in 341 Deike
Lab2 - Thursday 2:30-4:25pm in 341 Deike
Syllabus:
Click here for syllabus
Text and Readings:
There are six texts on reserve in the EMS library.
ANGEL
Click here for a link to the ANGEL, Penn State's course management system

Course Description:
This course is designed to expose the upper level undergraduate (and graduate students) in Geosciences and/or Petroleum Engineering to Petroleum Geology. The course will include the origin of source rocks, rock properties, migration of hydrocarbons, and correlation methods for rock formations. During the final weeks of the course, students will be placed into exploration teams and will work up a drilling program based on skills learned over the semester. Explorationists from Pennzoil (Houston) will evaluate projects. Highlights include:
* Seismic Stratigraphy

* Field trip to reservoir rocks

* Wireline log analysis

* Exploration Project in Gulf of Mexico

A special emphasis will be placed on the growing need for engineers and scientists to integrate skills in petroleum engineering, geophysics and geology in the search for hydrocarbons. The course is recommended for students interested in applied geology, whether petroleum or hydrogeology, and can serve as an elective for the Geosciences Hydrogeology Option.
Field Trip:
Field trips will take place during lab sessions, come prepared with appropriate materials and clothing!
Helpful Information:
Coming soon
This site was last updated on January 12, 2004
web problems may be directed to heatherj@geosc.psu.edu