Modifying Themes
The themes provided in FrontPage can be modified to fit your needs. If you have already assigned a theme to a page that could like to modify it, follow the steps on this page. First select Format|Themes and click the modify button. This action will reveal additional buttons for modifying themes.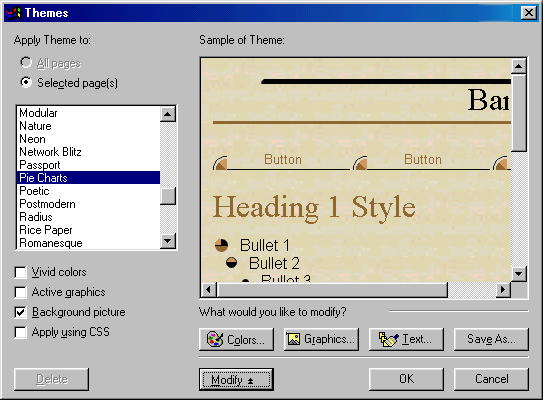 Colors
Click the Colors... button to modify the color scheme.

Color Schemes tab - Select preset color schemes from the list and preview those colors in the theme in the Sample of Theme window.

Color Wheel tab - Click and drag the circle in the color wheel to alter the color scheme. Use the Brightness slider to brighten and dim the colors.
Custom tab - Change each text type individually by selecting the item from the drop-down menu and assigning a color.
Click OK when you are finished modifying the color scheme.

Graphics
The bullets, banners, and backgrounds on a theme can be changed as well. Click the Graphics... button to change the images in the theme.
Select items from the drop-down menu. Change the images from the text field provided under the Picture tab and modify the fonts used from the Font tab.
At the bottom of the window, select "Normal Graphics" for static images and "Active Graphics" for Java rollover applets.
Click OK when finished.

Text
The Text... button will provide a menu that will allow you to change the font of elements in the theme.
Select a text element from the Item drop-down menu and then select the new font for the item from the Font list.
Click the More Text Styles... button to change additional text properties.

Saving a Modified Theme
If you plan on using the same modified theme on other pages, the theme can be saved. Click the Save As button on the Themes dialog box and enter a name for the theme.