Shared Borders
Shared Borders are parts of the web page that share content with the other pages in the web. They are located at the top, bottom, left side, or right side of the page and are useful for information that should appear on every page in the web such as navigation links, web site headers, and copyright information.
Adding Shared Borders
Add shared borders to a web by following these steps:
Open a web and select Format|Shared Borders... from the menu bar.

Check All pages to apply the border(s) to every page in the web or Current page if the border(s) should appear only on the current page.
Select the areas where the shared borders should appear by checking the Top, Left, Right, and Bottom boxes. It is not recommended to have content for the Right border since it may not be visible to users with low screen resolutions.
Check the Include navigation buttons boxes if those sections will have site navigation elements (explained in detail on the next page).
Click OK when finished. These properties can be changed by selecting Format|Shared Borders... again from the menu bar after the shared borders have been defined.
Shared Border Content
After completing the steps outlined above, a setup similar to the image below will appear on the web page:

Edit content by clicking on the shared border and replacing purple comment text with text and graphics.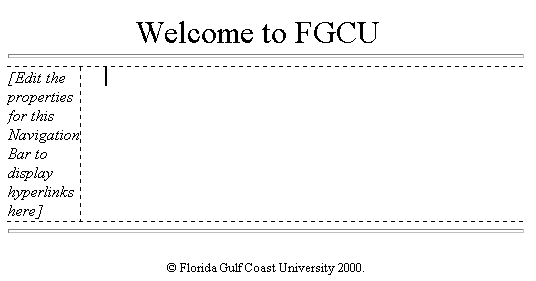 Navigation bars are automatically created by FrontPage according to the navigation structure that is set up in Navigation View. These are explained in detail on the next page...